1. Introduction
The digital EV3 Gyro Sensor measures the robot's rotational motion and changes in its orientation.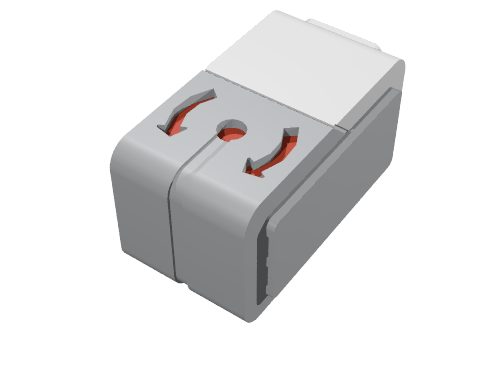 Two separate outputs per axis for high-speed gaming applications and lower-speed menu navigation: 2000°/s full scale range (high-speed gaming) 440°/s full scale range (pointing) • Low bias drift over temperature • On-chip temperature sensor

Temperature sensor Integrated amplifiers & low-pass filters.

Dual-mass, vibratory MEMS gyroscope offers superior vibration rejection over a wide frequency range. The dual-mass design inherently rejects any signal caused by linear acceleration.

10,000 g shock tolerance The Rate-Out of the gyro is not ratiometric to the supply voltage. The scale factor is calibrated at the chip foundry and is nominally independent of supply voltage.
2. How to use the sensor
2.1. Read the angle
package ev3dev.sensors.ev3;

import ev3dev.sensors.Battery;
import lejos.hardware.port.SensorPort;
import lejos.robotics.SampleProvider;
import lejos.utility.Delay;

public class GyroSensorDemo {

	//Robot Configuration
	private static EV3GyroSensor gyroSensor = new EV3GyroSensor(SensorPort.S1);

	//Configuration
	private static int HALF_SECOND = 500;

	public static void main(String[] args) {

		final SampleProvider sp = gyroSensor.getAngleMode();
		int value = 0;

        //Control loop
        final int iteration_threshold = 20;
        for(int i = 0; i <= iteration_threshold; i++) {

        	float [] sample = new float[sp.sampleSize()];
            sp.fetchSample(sample, 0);
            value = (int)sample[0];

			System.out.println("Iteration: " + i);
			System.out.println("Gyro angle: " + value);

            Delay.msDelay(HALF_SECOND);
        }

		System.out.println(Battery.getInstance().getVoltage());

	}

}
2.2. Use the rate mode
package ev3dev.sensors.ev3;

import lejos.hardware.port.SensorPort;
import lejos.robotics.SampleProvider;

public class GyroSensorDemo2 {

	//Robot Configuration
	private static EV3GyroSensor gyroSensor = new EV3GyroSensor(SensorPort.S1);

	public static void main(String[] args) {

		SampleProvider sp = gyroSensor.getRateMode();
		float[] sample = new float[sp.sampleSize()];
		sp.fetchSample(sample, 0);
		sp = gyroSensor.getAngleMode();
		sample = new float[sp.sampleSize()];
		sp.fetchSample(sample, 0);
		sp = gyroSensor.getAngleAndRateMode();
		sample = new float[sp.sampleSize()];
		sp.fetchSample(sample, 0);

		gyroSensor.reset();
	}

}
2.3. Detect that your robot turn 90 degrees
package ev3dev.sensors.ev3;

import lejos.hardware.port.SensorPort;
import lejos.robotics.SampleProvider;
import lejos.utility.Delay;
import org.slf4j.Logger;

public class GyroSensorDemo3 {

	private static final Logger log = org.slf4j.LoggerFactory.getLogger(GyroSensorDemo3.class);
	//Robot Configuration
	private static EV3GyroSensor gyroSensor = new EV3GyroSensor(SensorPort.S1);

	//Configuration
	private static int HALF_SECOND = 500;

	public static void main(String[] args) {

		final SampleProvider sp = gyroSensor.getAngleAndRateMode();
		int value = 0;

		int iterationCounter = 0;

        //Control loop
		while(true){
			float [] sample = new float[sp.sampleSize()];
            sp.fetchSample(sample, 0);
            value = (int)sample[0];

            log.info("Gyro angle/rate: {}", value);

			if(value >= 90){
				//Sound.getInstance().beep();
				log.info("Rotated 90 degrees");
				break;
			}

			iterationCounter++;
			if(iterationCounter >= 100){
				break;
			}

			Delay.msDelay(HALF_SECOND);
		}

	}

}